I decided to start a build thread for my project before I got to far into it. Since I'm completely new to these things, I figured this would give you guys a chance to spot any mistakes before I make them and help me out with anything that might be common knowledge to you guys that I may overlook.
So without further ado, I'll catch you guys up to where I am now.
The car is a 1967 VW Beetle, that we originally thought was a '62 until we rechecked the V.I.N. I bought the car off of a friend at work for $500 which was a good deal for both of us considering he got the car for free. I had been trying to get the car from him for a long time, even when we we still stationed in Texas because the body was already cut up for a Baja and I have always wanted to build a Baja. He finally realized that he was never going to restore it original and decided to sell it to me.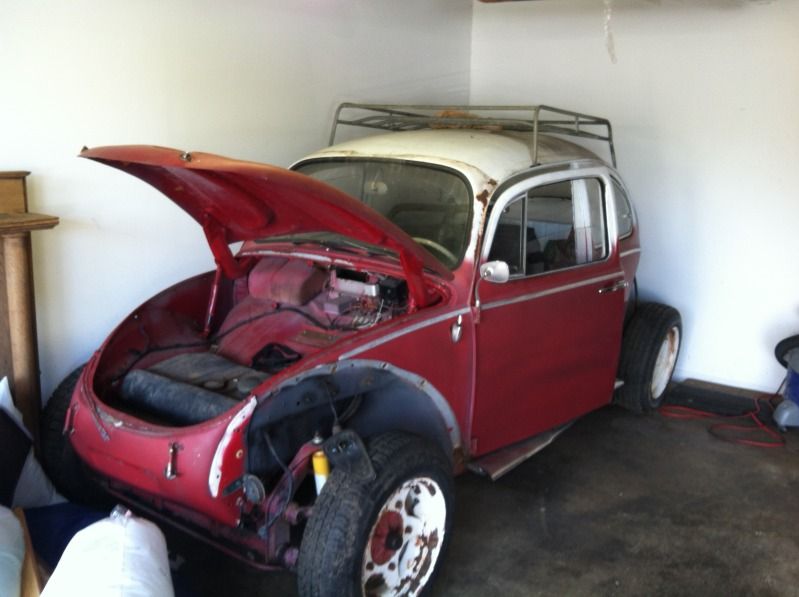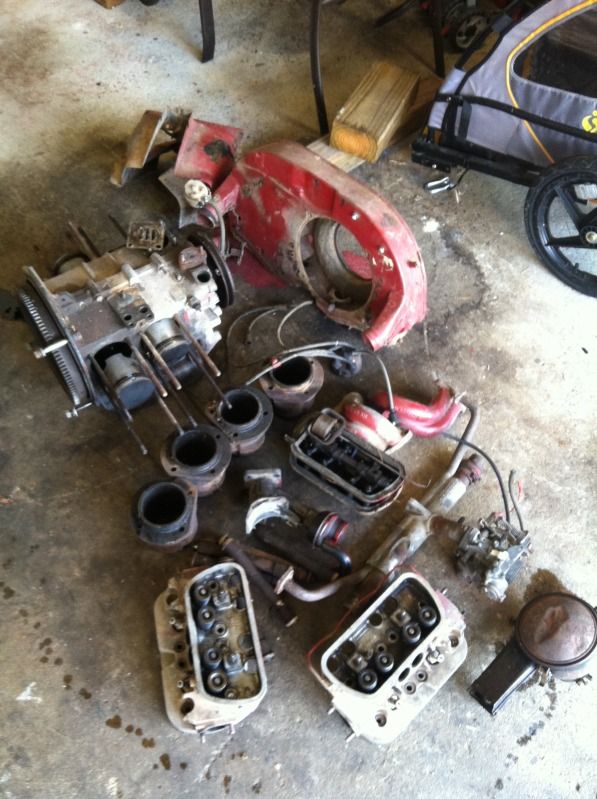 This was the car as it sat when I bought it, and where it is still sitting in his garage because I don't really have anywhere to keep it right now. You can see where the name "Basket Case" came from. Just about everything was stuffed inside the car.
I began tear down on the motor and hit a snag when it came to the flywheel gland nut. My roommate and I tried as hard as we could to break it lose with an impact gun while holding the flywheel in place with a screwdriver to no avail. I did some research and discovered that this little nut is torqued on at almost 300 ft/lbs and that there is a flywheel lock that bolts on to hold the flywheel in place. I ordered the lock and put it on yesterday and tried again with the impact to break it lose but no dice. The engine then got cargo strapped to the bed of my truck and we went at it with a 1/2" breaker bar and a 6' piece of pipe. This resulted in twisting the head right off the breaker bar.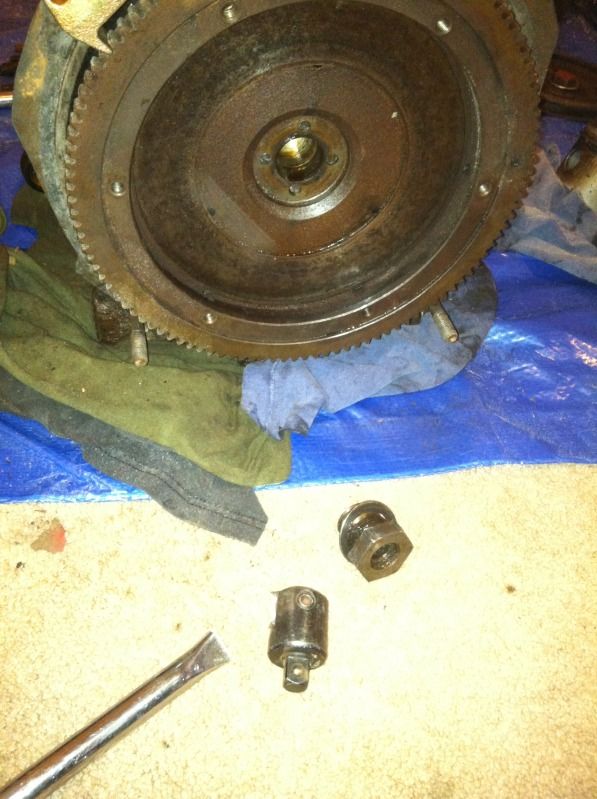 We grabbed a second breaker bar and were finally able to get it off. In the picture you can see the nut and the two pieces of the breaker bar.
After that, the rest of the teardown was pretty straightforward.
Got all the internal out of the case.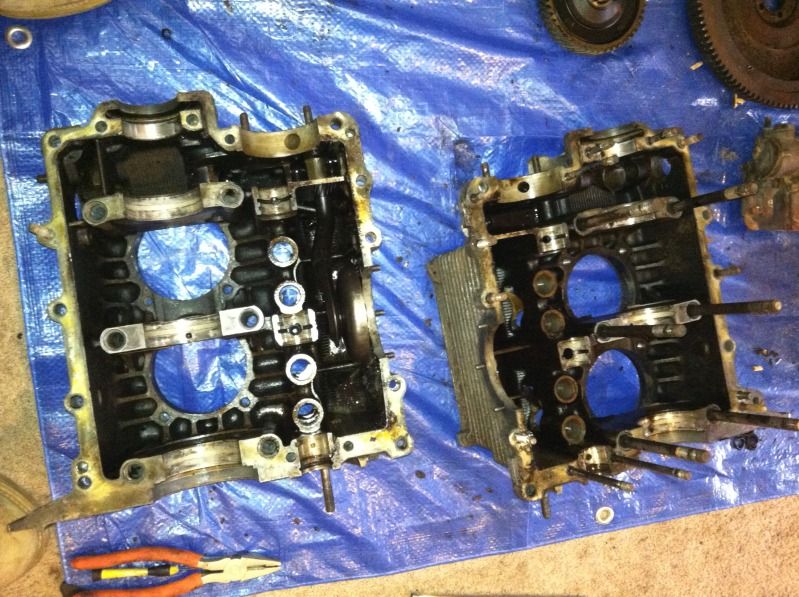 I took the case to the solvent tank at the Auto Craft Center on post and tried to clean it up as best I could.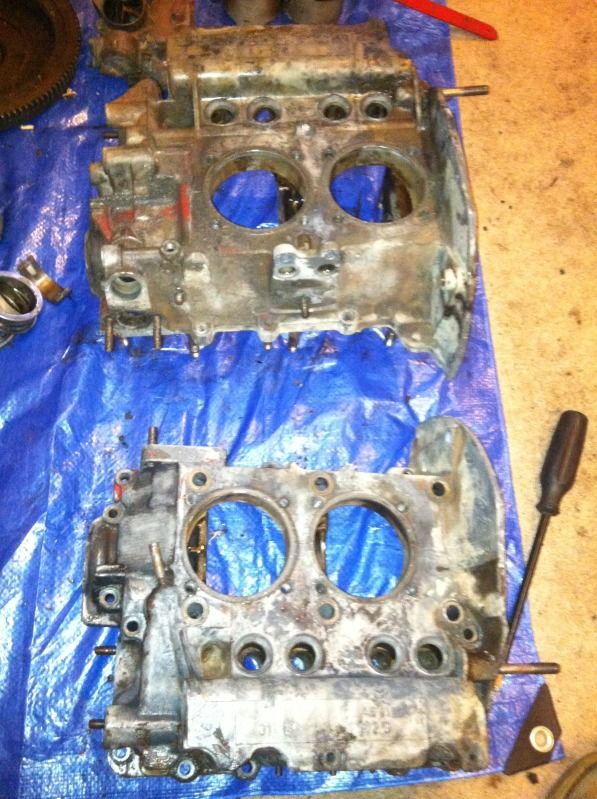 I decided that working on a tarp on the floor sucked, so I bought an engine stand.
I tore down the carb for a rebuild and realized that the pictures I took sucked, so I still need to work that out.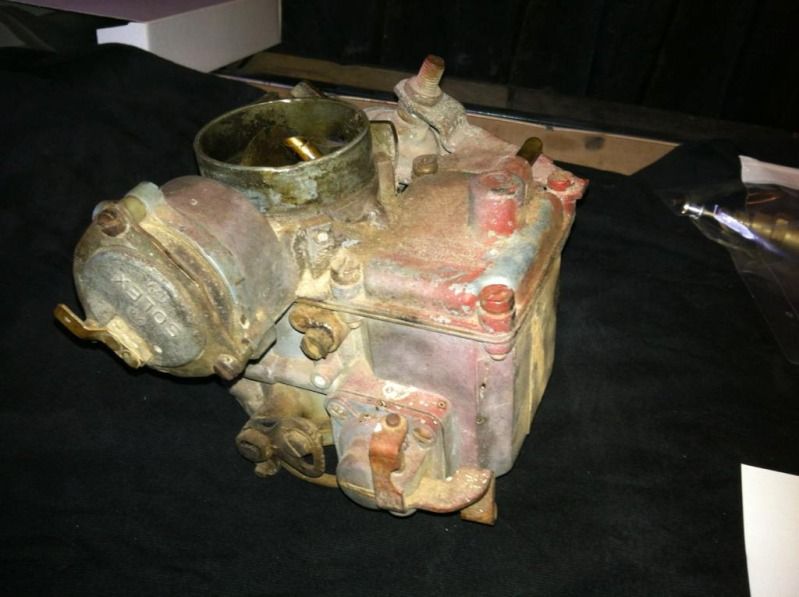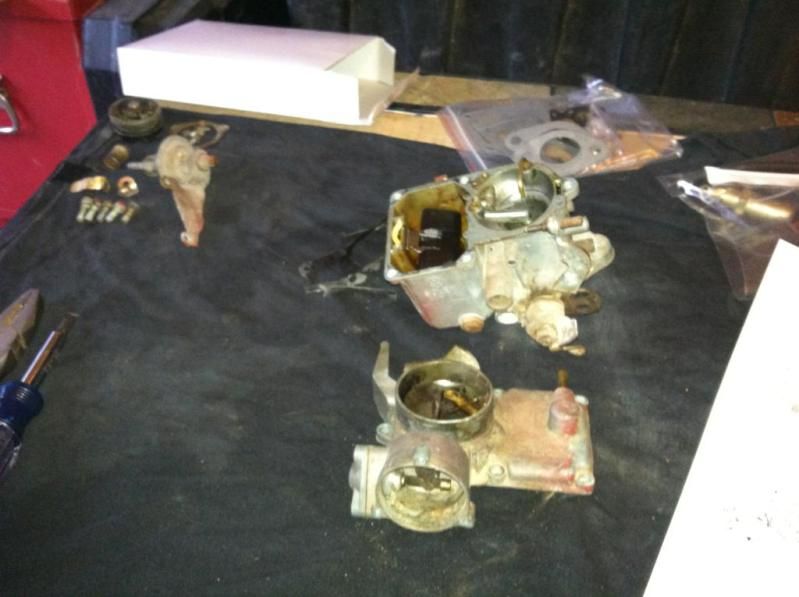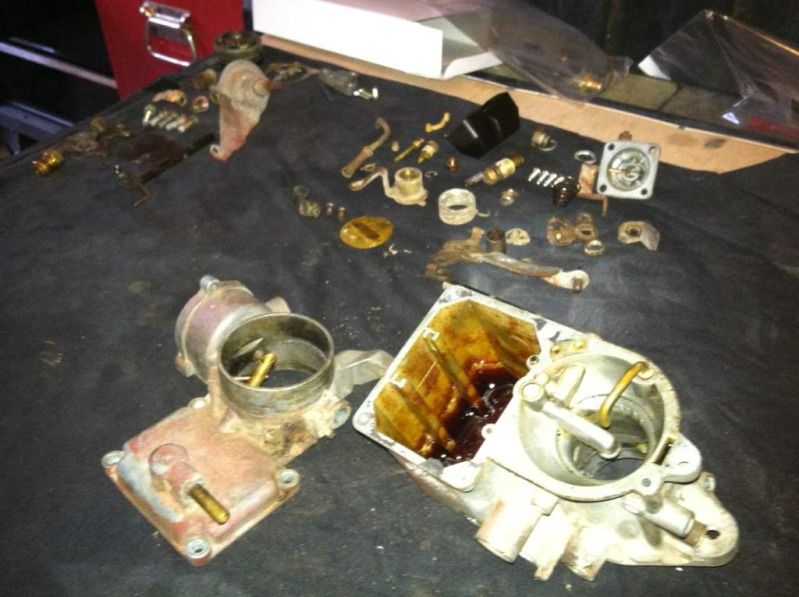 I sent the case and crank off to the machine shop to get cleaned up and checked out, as well as align bored.
Got the crank and case back from the machine shop. Apparently this thing was rebuilt once before, they put it on the line bore machine and it had already been done at .020 and didn't need it again. They did grind the crank down .030 though and all the connecting rods spec'd out good. The crank and case got a good dip in the hot tank and came out looking better than I though they would.
Unfortunately, I got a speeding ticket that I need to pay out of this check that is going to hurt the play money for a bit. Hopefully I can scrape together the cash for the bearing set so I can at least get the internals back in it.
That's as far as I've gotten so far. My goal for the project is to at least get the engine rebuilt and get the body work done and the car painted before I have to go to Korea for a year in Jan.