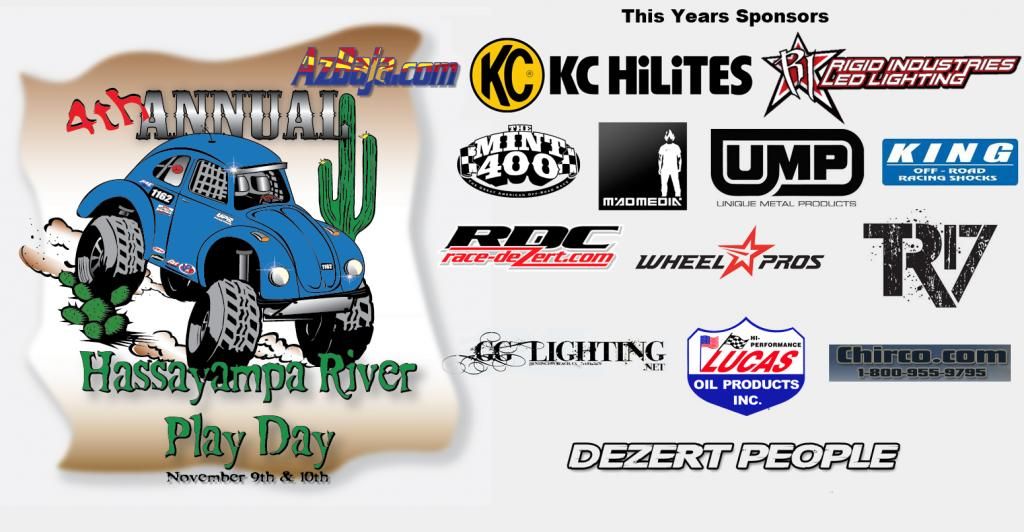 PLEASE READ-
This event is put on with the intent of having a fun and enjoyable family weekend with other site members. Please make sure you consider all the other people attending the event and how your actions will effect their weekend. Common respect and courtesy will be paramount during the daytime hours and the the night. With that said please take into consideration the following.
PETS - if you are bringing a pet please make sure they are supervised at all times. We do not want any pets hurt during the weekend nor do we want anyone hurt by someones pet. Please make sure you have a leash.
KIDS - Some people will be bringing children to the event. I cannot stress how important safety is with little ones around. Drivers please be aware of their presence and parents make sure you keep them out of harms way.
VEHICLES - While driving in the camping area please drive slow. I know it is the open desert and enjoying it at speed is the best part, but we must think about safety first. There is a lot of desert out there. Lets keep the speeds down in the camping area.
TRASH - Please make sure to clean up the camping area. We have all heard stories of inconsiderate people who leave trash behind. Lets not add AzBaja members to that list.
FIRES - It can't be said enough so I will say it again. Please be safe with your camp fire. We might have one big one or several small ones, but being safe is most important.
WEEKEND ACTIVITIES:
First off there will be some games for the kids to partake in. These will occur Saturday afternoon with the adult activities. AzBaja Eric will be in charge of these activities.
LUNCH - Dalton is supplying the grill and AzBaja Eric will be grilling up burgers and dogs.
JWHRacing will be supplying condiments for the food and DirtJunkie will be supplying lettuce, tomato, onion etc...
If everyone attending could supply a bag of chips, some cookies, easy finger foods etc.. it would help make for a nice big lunch. I will be supplying water and sodas for lunch.
We also need a bunch of paper plates and napkins.
If you bring something just reply to this thread with what you are bringing so we don't end up with 10 bags of tortilla chips.
Contests for adults: We have several major sponsors who have donated some excellent prizes. I will try to have the first contest at noon. We will finish up with a night run for some really nice prizes.
Sat:
Noon - First Contest
1pm - LUNCH
2pm - 2nd contest
3-4pm will be some free driving time
4:30pm - 3rd contest
5:30pm 4th contest
6pm Dinner
7pm - Night Run
REMEMBER: FUN AND SAFE IS THE THEME FOR THE WEEKEND.
Last edited by wideopenmotorsports on Thu Oct 17, 2013 08:04 PM; edited 2 time in total