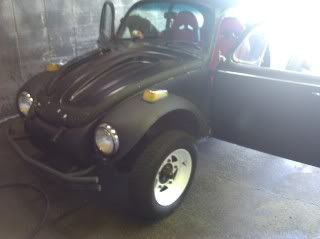 Its a 65 baja. Has a stock 1600 sp out of a 66 in it. Runs great. Has disc brakes on the front. The pan is rust free. Tires are great. The steering and suspension seems nice and tight. Body is solid. He wants $1500. I know a bit about cars, not much bout VW's but seems like a good price. Especially being a 65 here in Utah that means no emissions.
Its not perfect. Front bumper is kinda floppy, no big deal. Just needs a bolt. It has push button start. And the front seats are racing seats. Real nice seats but seem too big for the car. I might get use to them. I got to check my local law. If my 6 year old daughter can ride in the front, I'll keep the seats. If not. I'll have to find some stockers to give more room in the back.
I know the swing arm rear isn't the best for a baja. But being my first and also need this for daily driving dutys. I think it'll be fine for a while. So what's. Everybody's opinion on this car?