Starting off for a 1st in the 83 AMSA 12-hour race at California City which clinched the Championship!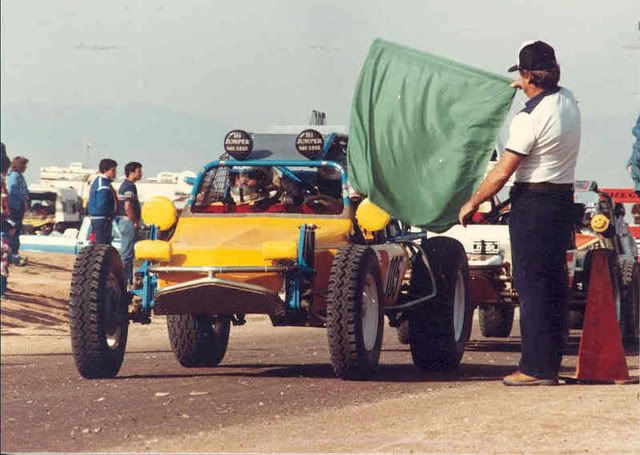 Passing a 2180 dual carbed chromoly frame car on the way to 2nd the next year (would have been 1st again if not for the co-driver endoing the car 25 miles after this photo) And I talked to the owner/driver of this orange car and his partner last weekend at the Glen Helen Baja Cup race.
California City 250 84 - 1st in class. Subfreezing temps!
At my buddy's shop a few years ago ready to head out with a bunch of others on a run in the neighborhood desert.
Passing our Hodge Road remote pit straight toward the setting sun in the 80 Fireworks 250. 115 degrees in the shade. The Parker Pumper helmet made it livable. 1st overall that day was the single seat buggy at the bottom of the front cover of the Hibbard book. I beat that same car in 84.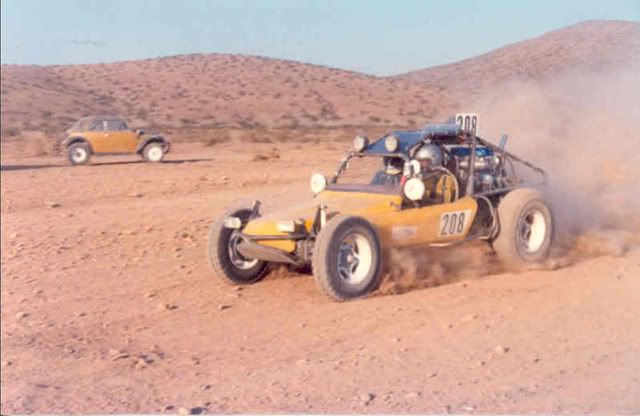 The specs are...
- Hi Jumper Ascot I frame with Hi Jumper fiberglass body panels
- Reinforcing added near beam mounts
- 'X' added from top front cross member to front of cage
- 1-1/2" diagonal in cage behind seats per SCORE rules
- Motor mount brace straps 1/4" x 1-1/2"
- additional 1-1/2" fork brace tubes ahead of axles
- Horseshoe shock mounts
- 1" x .065 nerf bars in 1-1/4 x .120 sockets
- Hi Jumper 3/16" steel trans skid plate welded on
- 1/8" diamond plate skid plates
- floor pan of 1/16" 6061
- roof of 1/16" 6061
- firewalls of .035 6061
- added "defender bars" on rear bumper of 3/16 x 1" strap
- Rear suspension
- Sway-A-Way 27mm short Torsion Bars
- Sway-A-Way adjustable spring plates
- 8-1/4" rear travel
- Spring Plate retainer straps
- 2 KYB 5530 shocks with cans removed
- 1 KYB 5529 shock on stock mount with cans removed
- Front Suspension
- 65 VW beam cut and rotated 5/16"
- 12" tall shock towers (measured form top of beam top tube to
shock mount (typically called "8" towers)
- 10" front travel
- KYB 5530 shocks with cans removed
- gusseted front arms
- bump stops welded on towers with sway-A-Way snubbers
- 1" x .250 droop stops welded on towers between arms (later removed)
- Wright "Beefed" spindles
- Sway-A-Way Hardened link and king pins and bushings
- Swingaxle Type 1 gearbox built by Jim Sheehan of Offroad Outfittters
- 4.37 R&P
- Welded 3 & 4th spacers
- Shotpeened gears and shafts
- Close ratio 3rd (1.48) and 4th (1.14)
- hardened steel shifter rings
- ORO Differential girdle
- Polished long spline long axles
- Sway-A-Way hardened Axle thrust spacers
- Engine:
- 1835 Type 1 engine
- VW "Universal" case
- Mahle forged and balanced 92mm pistons
- 9.5:1 compression ratio
- Pump gas with octane booster
- Single Weber 40DCNF on CB independent runner manifold
- Norris 336S cam
- Elephant Feet adjusters in machined Type 1 rockers
- chrome moly pushrods
- Dual Port heads with 3-angle valve job
- Norris dual High Rev valve springs and matching retainers
- Gene Berg pressure relief oil pump cover
- 10lb flywheel
- Kennedy 1,700lb clutch with Kennedy Heavy Duty solid center disc
- TriMil 1-1/2" header
- Fiberglass seats later replaced with poly seats
- Deist 5-point harnesses
- No gauges
- VW early 60s Bus master cylinder with reservoir
- Jamar Park-Loc
- 65 front brakes with Frendo metallic shoes and Sway-A-Way studs
- 5-Lug Type 3 rear brakes with Frendo metallic shoes and
Sway-A-Way studs
- 15 x 5 5-spoke"Jackman" style front wheels with 6.70-15 Cooper
Traction tires
- 15 x 8 5-spoke"Jackman" style rear wheels with 33 x 9.00-15
SandBlaster tires