Push Button Toggle Switch
Floor pan screwed in until i get it to a welder
Baja parts are going on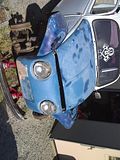 I was Cutting down the front and ran out of sawsall blades. need to trim a couple inches here and there.
all my pictures are clickable links
i also found a hole in the bottom of my gas tank. I am glad i didn't fill it up. That would have been an expensive mistake. So now i need to find a tank.