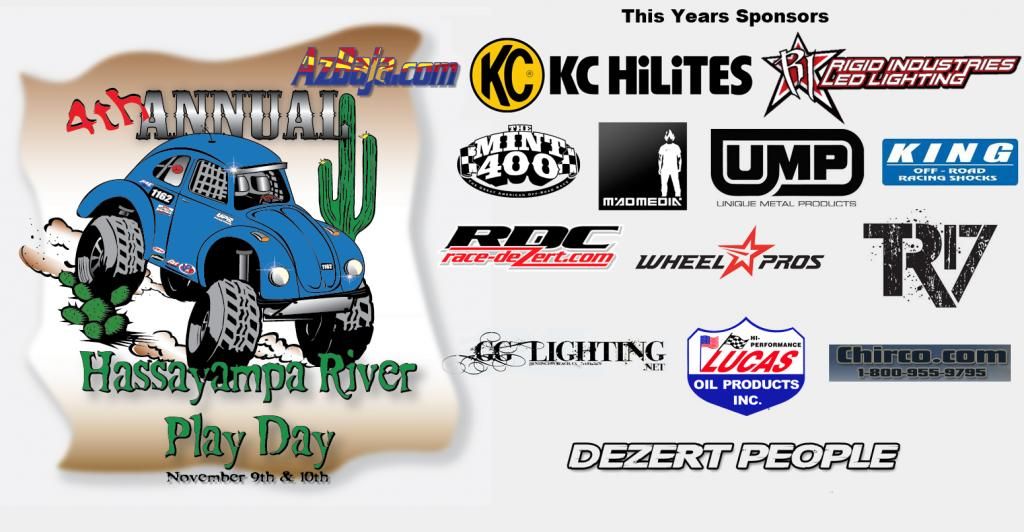 Looks like we are going to have at least 35 people at this years run. Looks like a great turnout.
Since JWHRacing and I spoke with alot of people at the Lundes show and the Fodrill show I wthink we may be able to top 40. The PepeAzul class 11 team will be in attendance. They are fresh off a class 11 run at the 2013 Baja 500 so you guys can pick their brains on all the good stuff they encountered.
Just a reminder:
Sat:
11am - First Contest (Sponsored by KMC Wheels)
Noon -Second Contest (Sponsored by Lucas Oil)
1pm - LUNCH
2pm - Third Contest (Sponsored by Mad Media / Mint 400)
3-4pm will be some free driving time. Dalton will lead a run at this time.
4:30pm - Fourth contest (Sponsored by RDC/Dezert People Vids)
5:30pm Fifth contest (sponsored by KC Hilites and Rigid Industries Lighting)
6:30pm Fifth Contest results and general raffle prizes during dinner
ONE WEEK TO GO. Get those cars ready!