Figured it was time I finally introduced myself on here & showed some pics of my Baja project.
I picked up a roller chassis a few months ago with the intentions of building it for a dune toy, but soon realized it was going to be far more work than I had time to invest before dune season. I began searching for a decent sand rail that I could rob the drivetrain & other parts out of to get the first car up & running in time, but I stumbled upon a fairly clean runner down in Tucson. I picked it up & have begun doing some minor modifications for this season.
Goal for this season is to do minor things to it to make it safe & reliable enough to get us through the season without breaking the bank. I've already gutted the interior as far as seats & carpet, bought some like new Renegade suspension seats & I'll be tearing out the old crusty wiring & building a new harness in the next few weeks. I'm going to run Crow harnesses & a 6 point cage on the interior, then possibly bedliner the floor to make it easy to clean out. The rear bumper is a bit hokey, so I'll probably build a new one & tie it into the cage some how, but I'm going to leave the front one for now.
I scored a set of Bilstein remote reservoir shocks for the rear from a buddy & I've got a set of Rigid D2's that I've had laying around my garage waiting for something to go on, so I've got to find a place to mount them. I'll be yanking the motor & resealing it soon too. I'll be having the engine tins sand blasted & powdercoated in a less offensive color, plus replacing the rusty exhaust too. I work really close to Arizona Transaxle Exchange, so I'm going to see about getting a T1 trans with a more sand & 30" tire friendly gear set for this season, to try to keep it cheap.
Brake lines & master cylinder will be replaced soon too & depending on the shape of the brakes when I pull them apart, I may go through them soon too.
The orders from the High Command (my wife) are to spend as little money on it now as possible, try it out this season & see if it's something I'm gonna want to keep driving in the sand. If it looks promising after the first trip, then I have the green light to go wild.
Future plans if it works good in the sand are:
Wider/longer rear arms
Bus trans
Better front suspension (either A-arms or BugZyla conversion setup of some sort)
Monster engine with a hair dryer attached to it.
Here's some pics: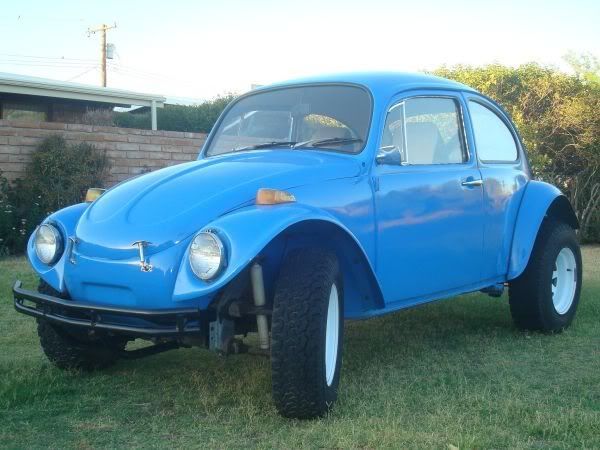 Loaded up for the trip home: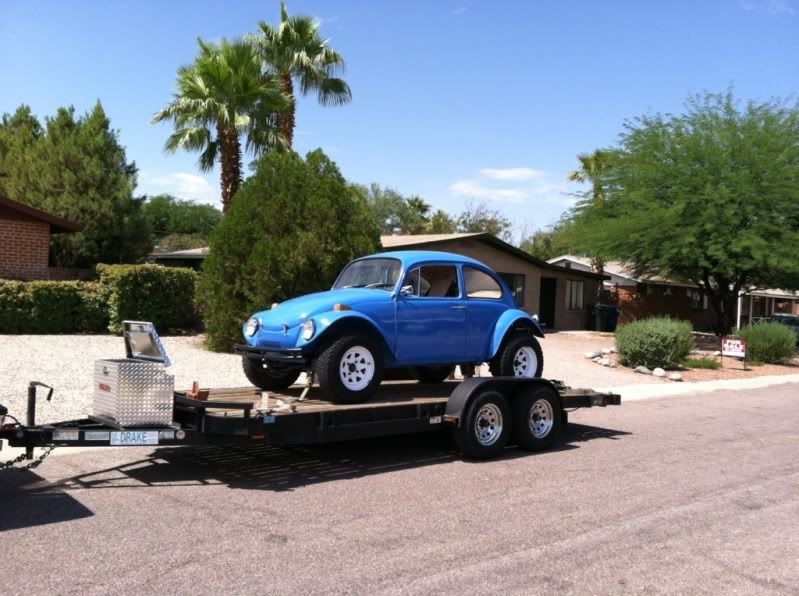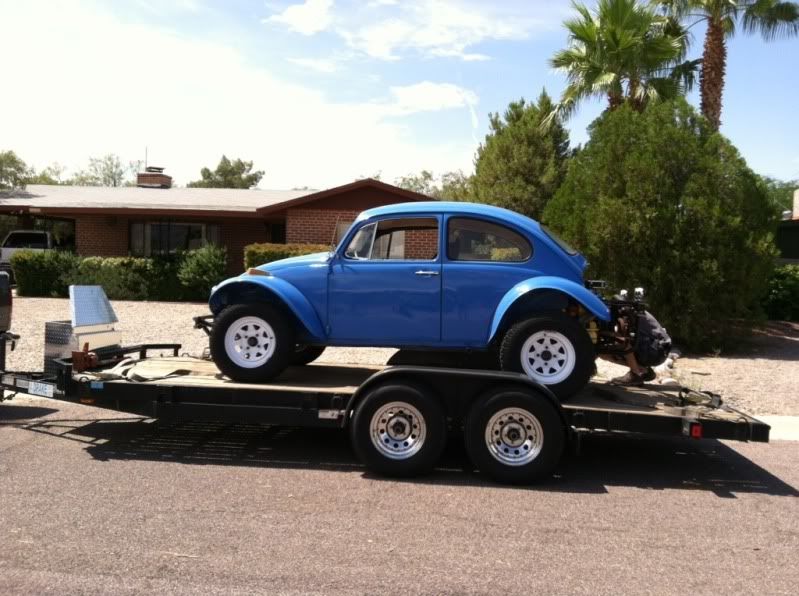 New seats: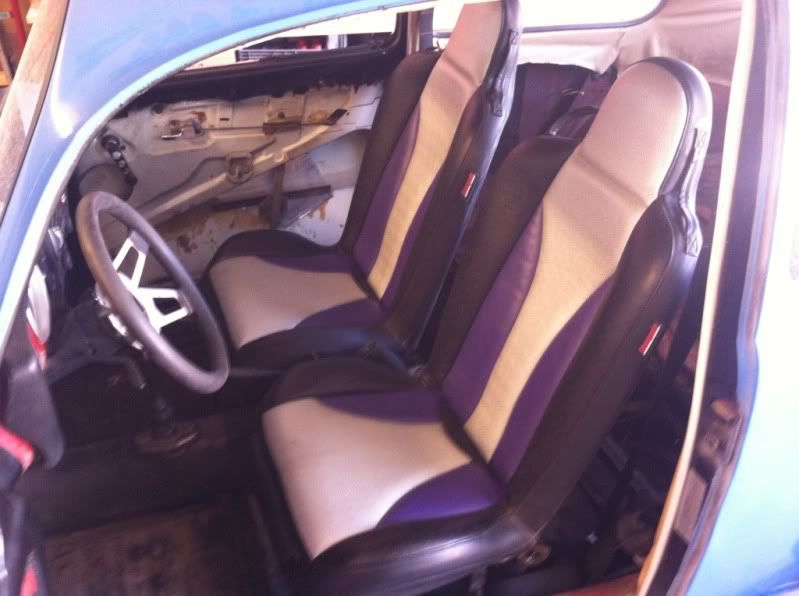 Wife's favorite color is purple & mine is blue, so I made a deal to include some purple here & there. I'll probably end up painting the cage purple when I put it in, as long as it isn't super hideous.
Current specs on the Engine:
1700 DP (stroker crank) with 110 Engle Cam & Weber Progressive carb & SVDA distributor.
I'm also going to have to tune the carb, it's got some serious flat spots & doesn't like to idle very well. The P.O. just took it out of the box & stuck it on.
As for now, I'm calling it the 10-20 bug, it's a perfect 10 from 20 feet. The paint looks good in pics, but it's got some serious runs & sags all over, so I'll eventually have to sand it down & repaint it. I'll probably do a satin scheme, just like I did on my first chassis (I like that shade of blue MUCH better)