Gunpilot wrote:
Quote::
Man I love your skid plate, bug looks nice! See you have a rollcage, thinking of doing the same, does it restrict as far as room inside? Im a tall dood, knees hit the wheel when I brake and need all the space I can get.
I have a friend Matt who is like 6'6" who has a full caged Baja for play, and he and his dad have another 30 year old race Baja they've been racing the last couple years. He has also ridden in and driven the 5-1600 race car my son co-drives in. None of these cars seem to be a particular problem for Matt. However, I can see where it could be for some people.
Lowering the seat can help headroom, but does little for leg and arm room. One of the primary problems in fitting a Baja for a tall person is that the b-pillar of the roll cage tends to restrict rearward adjustment of the driver's seat. So I recommend for those situations to install the seat before starting on the cage, or at least mocking up the seat where it will be comfortable for the tall driver.
The common off-the-shelf roll cage kits ("Class 11" cage by Latest Rage and EMPI 6-point bolt-together cage) are designed to have the B pillar installed vertical next to the B pillar of the body. This gets in the way of the top corner of seats and prevents moving them back much further than a stock seat will adjust.
If you're going to put in 4 or 5 point harnesses (I recommend for substantial offroad use...and what's a Baja for if not that?), you'll need a crosstube in the cage for the shoulder harnesses to mount to (to the floor is dangerous!). This adds to the interference between the cage and the seats.
Latest Rage Class 11 Cage: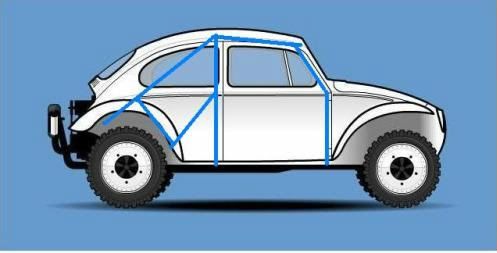 EMPI Cage: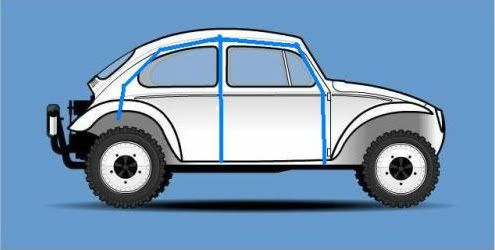 So...in fabricating a custom cage to deal with this, it's easy to get around these problems.
By moving the base mounting point of the cage B Pillar back to the torsion housing as in this drawing:
You have a great deal more room in the cockpit for a tall driver. The shoulder bar is back away from the seats so there is no interference with the belt buckles. The diagonal can be installed in the B Pillar hoop from corner to corner without being a problem. There is plenty of head, arm and leg room.