I should have posted in here a long time ago and actually was thinking I had, but a search doesn't show a previous intro for me on here. I found AZ Baja several years ago and thought it was very cool. After some time, the link stopped working and someone on another site said they had heard the owner of the site had passed away. I several months ago ran across the link on the Samba and tried it. Glad to find the stories were wrong.
My real name is Richard. I'm a member of SoCal Bajas. I live in the Mojave Desert of Southern California near El Mirage Dry Lake. The Space shuttle just came in overhead this morning for a California landing at Edwards AFB with a nice big double sonic boom. I started working Tech Inspection at offroad races in 1973, on and off since and still do now.
My 1st off road ride was in 1966 in the hills behind Willow Springs Raceway. It was in a Burro, which is a tube frame on a modified VW pan with aluminum body panels. It belonged to a road race Tech Inspector I had known since about 1960. He (Ernie Waring) worked at Les' Auto Salvage where Burros were built. Ernie the next year became the Chief of Tech for NORRA and later became my brother's father-in-law.
I built my 1st Baja in 74, it was a 65 sunroof
Picture taken in 1976 at the summit of Sherman Jeep Trail (where all the 4x guys said a 2x couldn't get) in the southern Sierras. The body shell died of fatigue back in the 70s and the running gear was transplanted into a tube frame buggy, which became my race car you see in my avatar. It won a Championship with AMSA in 1983 and nearly repeated in 84.
My 2nd Baja was actually the 1st car I had to drive when I was a teenager. It is this 58 below. Dad bought it in 63 from a friend who had used it for pharmacy delivery. Dad maintained it for his friend from new. I converted it into a Baja in 76/77 to share with my dad. Dad retained ownership until 1998 when the pink was handed over to me as heart trouble had ended Dad's driving.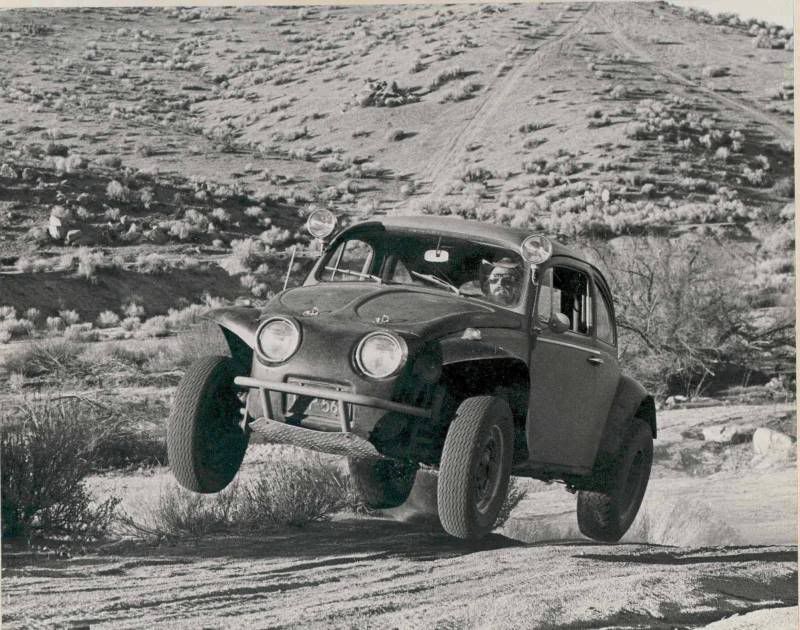 It now has 754,000 total miles on it, of which 379,000 are as a Baja. Time to paint it and put a complete cage in it and some other upgrades.
It's not back on the road just yet but the fab and paint are done. Picture it with Centerlines all around.
I currently have several other projects lined up, like this 58 convert Baja
There is also a 67 on a 63 pan which is intended to become a full body offroad Bug. Also a Glitterbug Sportsman fiberglass buggy. And my old Hi Jumper is way overdue for a refurbishing as well.
I also dabble in the darkside of the force, with my Toyota pickup, which is currently my daily driver.
I have a wife of 26 years who is a nurse, and a 14 year old son, who plays in his high school marching and concert bands, as well as working Tech with me at off road races.
Last edited by MojaveRacer208 on Thu Feb 03, 2011 01:26 AM; edited 2 time in total