Posting this over here, maybe help somebody I know it has helped me and man have I learned alot with more still to go.
First thing first, I have been driving with dizzy unlocked so today I locked it at 24° took it for a spin, well decrease in power, still builds boost but not impressed with the lock
Second, hooked up the LM-1 recorded at idle, ok I admit it I am an idiot on this stuff, I know it is rich but what am I looking at?
Actually is was waaaay lean, not good at all. ran great but would kill the engine in time.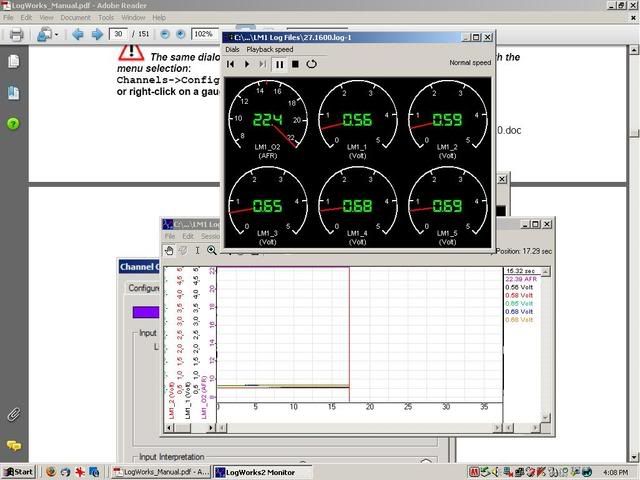 So idle is rich, first should I start with the idle mixture screw? Will this also help the performance with the locked dizzy?
Here is a link to the thread. Like I said I had screwed it up by revving it, thought that would help me with the upper but yea boost is different.
www.innovatemotorsport...#post48858
edit: 1914 t3/4 turbo,Single Del 45 with 32 mm chokes 1.45 mains, 180 Air correction jet and 65 idle
This is my frustration and confusion.
I smells and burning eyes like rich, exhaust has black soot but if that is saying lean then so be it.
My idles are 65's the main has 1.45 stamped in it . What else do I need to check. I was messing with the idle mixture screw and got it to 27.6 but no lower, 14.7 is the magic number correct?
Actually it is 12-13.5 for air cooled you want it richer vice lean
Started off with idle jets at 55 Main jet 145 Needle valve 2.25
First changed to Idle 58 Main 160 needle 2.50 AFR was 22.7 so I upped the idle to 70 and idle speed went from 1k to 3 k and stayed there till I backed off the idle screw. Next I tried a 70 jet for idle and AFR went to 15.6 then I put in a 75 idle jet and it fluctuates but stays in the 13-low 14 range.
The low ones are where I revved it up it would go down to 10 or so. What do you think, idle and rev is alot,lot better, but what is your opinions?
Thanks for the help so far guys.
I am getting closer
Ok I switched in the idles to 80 and the first blip of the throttle is a very very slight hesitation, the ones after are all right there. Sounds great response is well have not seen that, starting it up is not a massive pumping of the go pedal, it is coming around. Me likes Very Happy Here is the thread to the file.
www.innovatemotorsport...#post48867
After revving it does settle right down, no jumping in rpms either. We are getting closer guys, man I really do appreciate your help.
And TurboManx, yes am reading the book, that is probably one good reason I still have hair. Thanks, really!
If anybody needs help with what is here ask, I can hit boost which really sucks the air in so fuel has to be dumped in to equalize it, now I know not just think I have got it. Burning holes in cylinders gets expensive and time consuming.